OBSCURE FOR A PENNY ZERO 6: FROM ASHES WE RISE
WE'RE BACK. HERE'S WHY.
We said never again. Yet here we are, fam: announcing the 6th Obscure
For a Penny Zero tweet contest.
Why? People loved our last five tournaments and asked for another. New
contestants asked for their first chance at the brass ring. And the
judges loved doing it, too. So why kill the fun?
THE BASICS
Our contest plays out under conventional bracket-style rules.
Contestants are initially seeded based on follower count, to do battle
over the course of several rounds with their own unique themes. All
tweet matchups are judged anonymously based on the text of the tweets
alone, by a diverse panel of judges including accomplished writers,
artists and humorists from primarily outside of the Twitterverse.
WHAT IT MEANS
Anonymous judging and the diversity of our judging panel mean that
your tweet will rise (or fall) on the merits alone. You won't get any
special consideration for your follower count, Favstar trophies, which
Twitter clique you claim, or the percentage of your avi that consists
of cleavage. Your reputation and past glories don't matter. The judges
choose between two tweets on their merits alone and on their ability
to put a truly unique and funny spin on the topic at hand. The winner
moves on to the next round, and so on and so forth, until only one
remains standing.
THE RULES
All contestants will be given the round's theme and have 24 hours or
sometimes more to produce a tweet.
Submit your NEW tweets to @theobscuregents account and @obscuregent
will then send you and your opponent's tweets text-only to a panel of
9 judges.
Once you submit, your opponent will be notified. Once they submit, the
judging occurs.
Winners will be announced as they are decided.

All contest updates will be sent to the individual contestants by DM
and posted on the theObscureGentlemen.com
Winner moves on to the next round.
NEW FINAL BATTLE RULE:
To make things interesting, the championship match will now be a best
of three battle: one themed tweet on the given topic, one best-of old
tweet, and one freestyle tweet on a topic of the contestant's own
choosing.
SWEETENING THE POT
The winner of Obscure For A  Penny Zero 6 receives the following:
-$69 Gift Card to Taco Bell, the staple diet of our resident food
reviewer The Adult Male
-Your winning tweet turned into an Obscure Gentlemen comic
-Obscure Gentlemen hoodie
-Obscure Gentlemen t-shirt
-Obscure Gentlemen baseball cap
-12 For A Penny t-shirt
-Plain Zero t-shirt
-You select topics for the 12 For A Penny, Plain Zero, and Obscure
Gentlemen podcasts
-You choose one food item for the Adult Male to eat and review on YouTube
Second Place
Your runner-up tweet turned into an Obscure Gentlemen comic
TIMING
The first topic will be announced on August 21 and your first round
tweet will be due on August 28 by 1:38PM. That's right, you get one
full week this time. No excuses.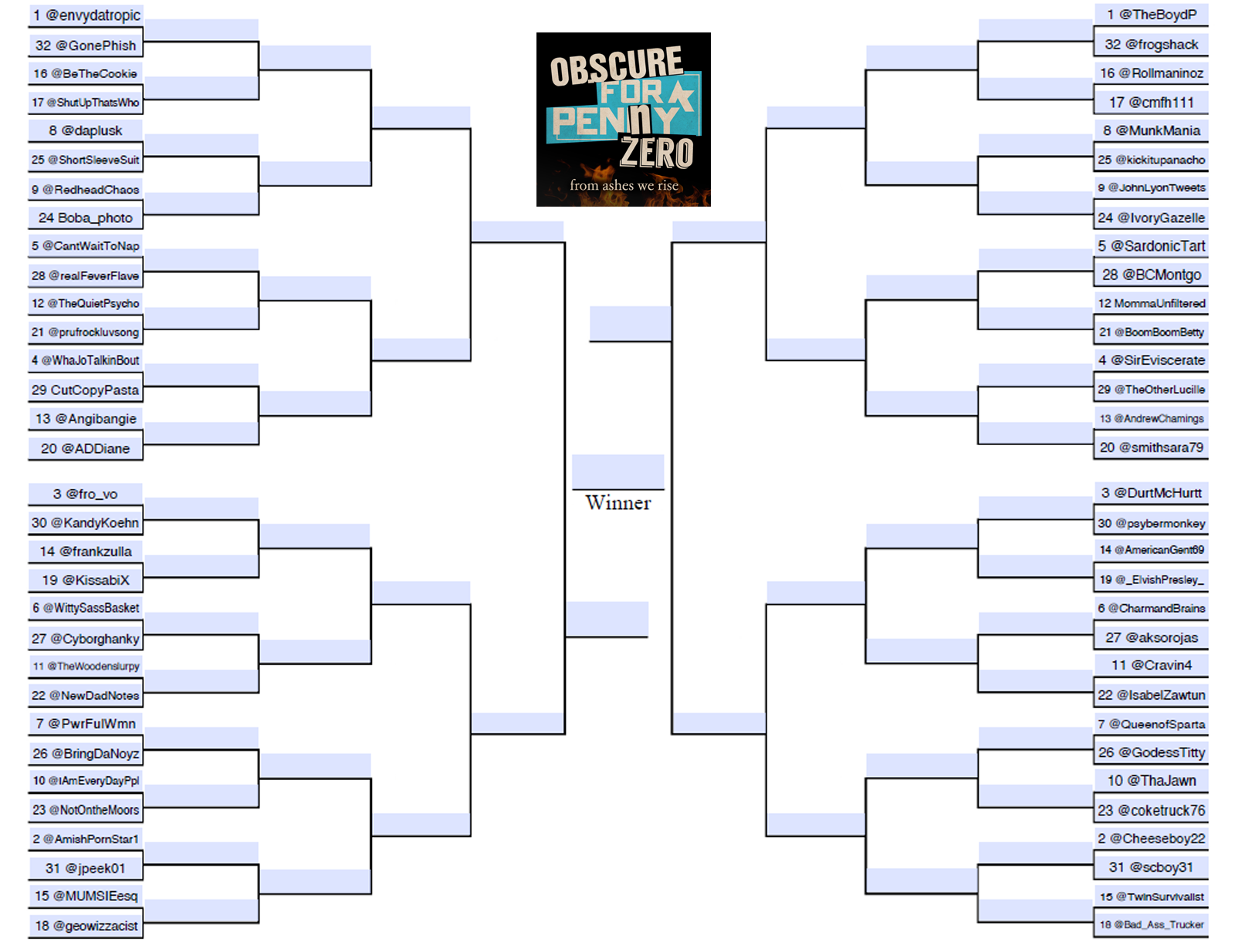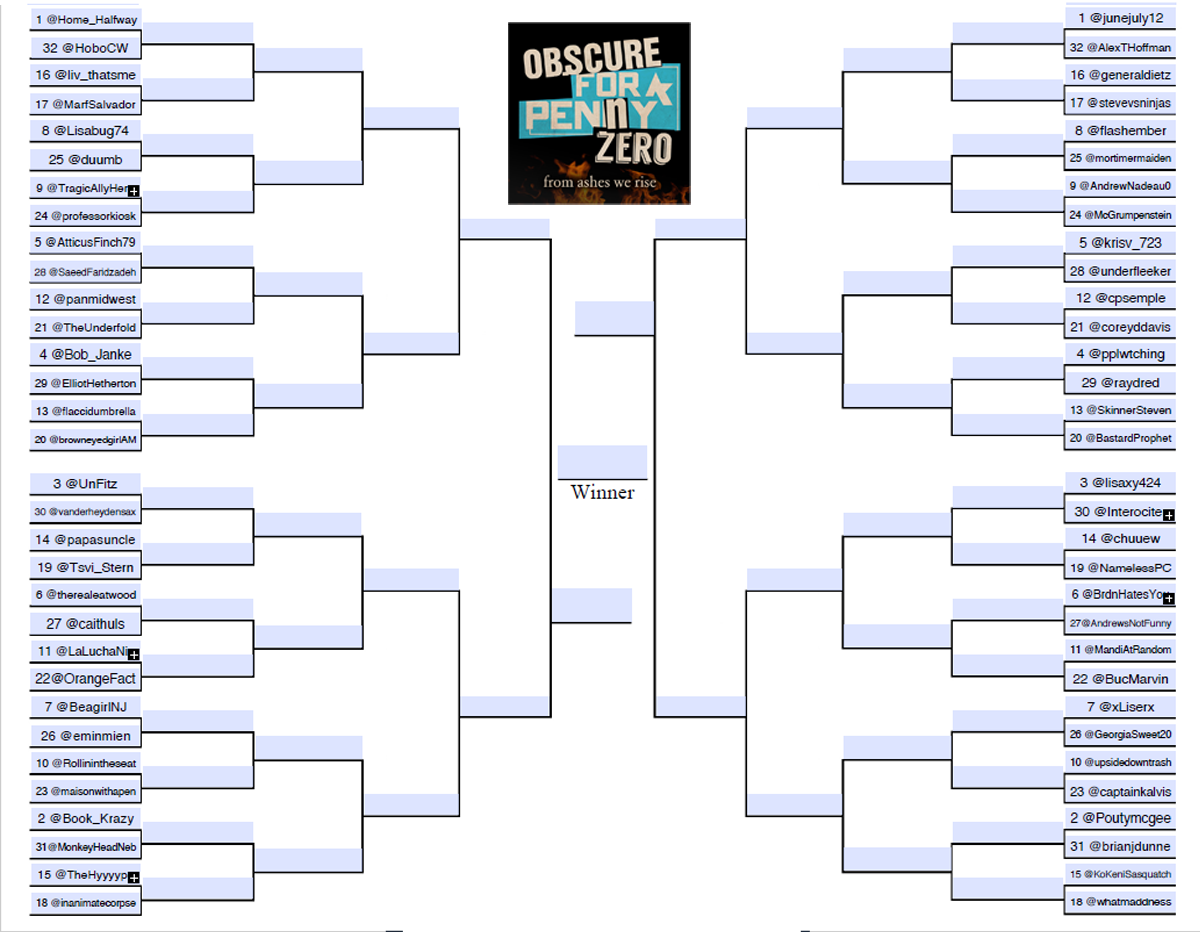 FAQs
Q: Hello, I'm a Bee themed account and think I'm an actual bee. How
can my bee tweet lose to someone who isn't a bee?
A: Go fuck yourself Bee person.
Q: Will I have a better chance of winning if I already own an OG shirt?
A: This is still a horrible question from a sad and horrible man. The
answer is "NO" because it's blind, you fool! You tiny, tiny fool from
Southern California.
Q: Do RTs or Favs matter?
A: Again, the judges don't see them so no they don't. You could have
been retweeted by Mark Hoppus and all of Blues Traveler and it still
won't matter.

Q: Can I tweet as many times as I want before submitting?
A: Everyone has different tactics and strategies. Tweet as much or as
little as you want. You only submit one. Just make sure you're happy
with it. Send one tweet and one tweet only to @theobscuregents via DM.

Q: I'm like the greatest tweeter since that one lady talked about
putting a finger in Kanye's butthole, how did I lose to a far inferior
tweet?
A: Fam, can I call you fam? Sometimes both tweets are subpar and ones
just moves on or maybe one only works as an inside joke for Twitter.
Just remember, your friends will lie to you and say your tweet is
better than your opponent's even if it isn't. That's what friends do.
Statistically speaking, it's extremely likely that you will lose. But

there's always next time.
Q: Can I find out what the score was, how many judges voted for me vs
my opponent?
A: Yes, ask @theobscuregents account and they will tell you. Please
don't cry or vomit.
Q: I'm going to ask @obscuregent for advice in choosing the tweet I
submit. That'll give me an edge, right?
A: NOPE!
Q:How do I get into the next contest?
A: DM @theObscuregents and ask them and you'll be added to the list.