Welcome! We are six men of distinction who line up at the buffet of popular and not-so-popular culture twice weekly. If it's debatable, we debate it. If it's little-known, we reference it. However absurd, inane or trivial, we treat it with the care and precision of surgeons. Hungry surgeons at a buffet (we also mix our metaphors). Feast with us, won't you?
CHARACTERS
AARON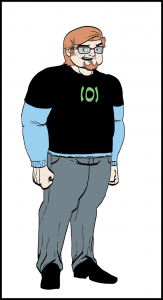 We are looking at the universe from a perspective counter to the bifunctional radius of centric median time. All that flows forth from the great maw of what was remains to be seen. When the old gods died, the new ones took their place. With that they brought us possibilities and wonder beyond men's wildest an undying imagination. They paved the cornerstones of un-reality in the cosmic constant of that which was even in the temporal schism. Behold for this is the world we live in and soon shall the final world come upon us.
My name is Aaron "Kal" Alvarez and I read too much Jack Kirby.
ABE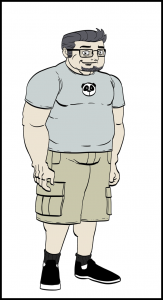 Hello all, my name is Abe. I'm a simple, quiet guy and the token,  "Real Mexican" of the Gentlemen. I love sports and watching ridiculous amounts of Tv. I will pretty much watch anything good or bad and am not ashamed to admit it. My role with the Gentlemen is very crucial. Without my "okie dokie's" or "Ha's" I don't think any of this would be possible. In conclusion, when I grow up, all I want to do is hang out with the gang from West Beverly at the Peach Pit discussing life over a delicious Mega Burger with Cheese.
JAMES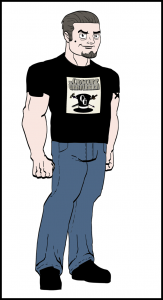 What I don't get is all this stuff that everyone likes that I don't. My tastes in music, video games, and just about anything else are far superior to what the common man enjoys. I'm here to tell everyone why they should stop liking what they like in the most dickish way possible. So delete your OK Go albums and listen to every Megadeth album at least five times a day like I do. In the end It's inevitable that all your bases are belong to us.
Fun Fact: Created the phrase "Oh Snap, Fool."
NICK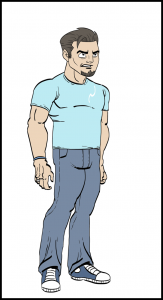 Hello, everyone. Well, my name is Nick. I'm usually in a situation where I have my shirt off and drop kick thugs for no reason. Oh, and usually during these situations I have a certain time limit to deliver or protect something… wait, never mind that's just the basic outline of every Jason Statham movie.
Really, I'm just a guy who enjoys comics, movies, and sports. I also don't  take too much seriously, and I'm always accused of being angry; which really pisses me off.
TREVOR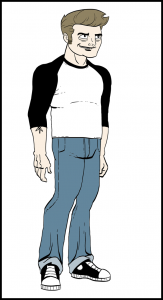 Who am I? You sure you wanna know? My bio is not for the faint of heart. If somebody said it was a happy little tale, if somebody told you I was just your average, ordinary guy, not a care in the world, somebody lied. I am completely and utterly misunderstood. I am not this weirdo that everyone paints me as. You think that just because a guy enjoys the finer points of the human body he's automatically a pervert and every decision he makes from that point is fueled by his dangling participle. For example, not too long ago, the other Gents and myself were supposed to come up with character collages based on genre characters that we liked. At one point we realized that we had no female characters and needed to add some. I simply suggested Hit-girl from "Kick-Ass" because the character in the comic is a pretty cool character, and everyone suddenly jumps to me being a freak that likes to oogle young girls that talk dirty. I'd like to make one thing clear right now: I am no fuckin' pedophile! Just because a guy thinks that Mal Reynolds from the "Firefly" series is one of the coolest pop-culture characters, it means I automatically want him to invade my corn-hole. Nay, sirs! NAY!
And you know what? I have other character aspects, but no one ever mentions them or they just get overlooked. What you don't often hear about me is my love of comics. Great stories by amazing writers and artists. Artists that can draw a legal aged lady like no oth- WAIT! Wait, I've gotten off track again, let's move on. I also really enjoy a good movie, whether it be action, horror, sci-fi, comedy, or parody. For example, there's this great parody where Batman and Robin double-team Catwom-  FUCK! Strike that last part. Let's also consider I play a lot of videogames. One of my favorites being the "Mass Effect" series. And guess what? I didn't hate the ending. That's it, nothing dirty to say about that. So really, can't I just be known as a guy that is just a big nerd with way too much useless information about pop-culture.
Thank you for reading my pleas. It took me a lot of time to write this, because typing with one hand is a lot slower,
Trevor "Yes I stole my opening lines from Spider-man" Gentlemen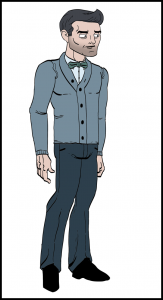 YAMA
I was born in a small hamlet in the Scottish highlands. When I was a young boy, the evil King Edward the Longshanks had my parents hanged, which provoked me to give long speeches on horseback. Years later, I helped my partner Roger Murtaugh avenge his friend's daughter's suicide before rescuing my own son from kidnappers holding him for ransom. My hobbies include talking to a beaver puppet, informing my second wife that everyone can see her pussy from the back, and foaming at the mouth because of Jews
.