Obscure For A Penny Zero: The End
Welcome to the Obscure For a Penny Zero 4: The End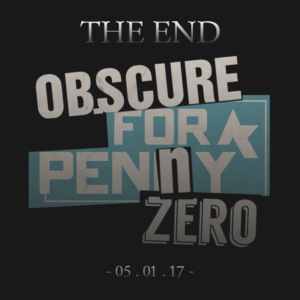 After birthing four happy, healthy, successful contests, we're going out like a beast: with twice the number of contestants!  From the beginning, we've prided ourselves on hosting an equal opportunity tournament, where Twitter accounts of all styles and sizes have a real shot at the championship belt (metaphorically speaking only,  no actual belts will be distributed). Our contest plays out under conventional bracket-style rules. Contestants are initially seeded based on follower count, to do battle on a different theme each round, being judged anonymously (based on the text of their tweets only) by a diverse panel of judges including accomplished writers, artists and humorists from primarily outside the Twitterverse. That means they couldn't care less about your Favstar ranking, follower count, which Twitter clique you affiliate with, or the percentage of your avi that consists of cleavage. They judge between two tweets on the merits only and on their ability to put a truly unique and funny spin on the topic at hand. The winner moves on to the next round, and so on and so forth, until only one Twitterer remains standing.
All contestants will be given the round's theme and have 24 hours or sometimes more to produce a tweet.
Submit your NEW tweets to @theobscuregents account and @obscuregent will then send you and your opponent's tweets text-only to a panel of 9 judges.
All contest updates will be sent to the individual contestants by DM and posted on the theObscureGentlemen.com
Winner moves on to the next round.
The winner of this contest will receive the following:
Champion
-Obscure Gentlemen hoodie
-Obscure Gentlemen t-shirt
-Obscure Gentlemen hat
-12 For A Penny Shirt
-Plain Zero Shirt
-Your tweet turned into a comic
-You select topics for the 12 For a Penny, Plain Zero, and Obscure Gentlemen podcasts.
Second Place
-Your tweet turned into a comic
FAQs
Q: Will I have a better chance of winning if I already own an OG shirt?
A: It will actually hurt your chances. No previous winner had owned Obscure Gentlemen apparel beforehand and no one has won twice. If this contest was meant to serve as a way to promote sales of OG apparel, we're not doing a very good job.
Q: Do RTs or Favs matter?
A: NOPE! Not in the least. The judges don't see and don't care about the cliquish aspects of Twitter: only the beautiful facets of this platform as a place where some genuinely amazing short form content is generated.
Q: Can I tweet as many times as I want before submitting?
A: Yes, you can post as many potential responses to each round's theme as you like, although you may only submit one of them. You can also choose to hide your drafts from your opponent and only tweet your chosen submission. It's  up to you. The only tweet that's judged is the one you DM to @theobscuregents as your official entry.
Q: My tweet was sooooo amazing and my opponent's sucked balls. How did they beat me?
A: Let's face it: Sometimes, when no one's there to throw us a sympathy fav or RT,  we're not as funny or brilliant or charming as we think we are. Sometimes the judges have to choose between two equally disappointing entries and must hash out which one sucks less on the merits. 
Q: Can I find out what the score was, how many judges voted for me vs my opponent?
A: Sure, but you may not like the answer.
Q: I'm going to ask @obscuregent for advice in choosing the tweet I submit. That'll give me an edge, right?
A: NOPE! He has chosen poorly many times and has led many contestants to their doom. @obscuregent is not a judge, is barred from participating in judges' deliberations, and has no particular insight into how the judges will vote. In fact, he kind of sucks at it. Why is he even here? He should be fired.