The Obscure Gourmet: Super 8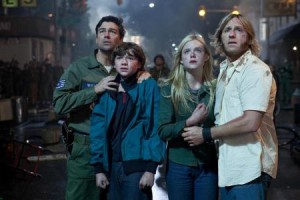 In the high-stress world of today, it's just not realistic to try new things all the time. Sometimes, after a long day of realizing that people born in the '90s are adults now, all you have the energy to do is throw on a pair of pants with an elastic waistband and plop a bowl of mac & cheese into the microwave. For those days when acknowledging your own mortality is almost too much to bear, this recipe from chef J.J. Abrams serves as the epitome of comfort food. Starchy, filling, undeniably delicious and inadvisably high in sodium. Complete and utter familiarity in every bite.
Ingredients
1 cup Goonies
80,000 cups Stand By Me
4 gallons E.T.
what the hell, 1 more gallon E.T.
1 heaping fuckwad Close Encounters of the Third Kind
1 teaspoon Stephen King's IT extract (adolescent sexual undertones only)
freshly-grated Flight of the Navigator to taste
dash of Cocoon
Directions
Pour ingredients into a crockpot on medium heat. Simmer for 112 minutes. Dig up old yearbook from Thomas Jefferson Middle School, fall asleep in puddle of own tears on kitchen floor.