Mark Stokes is an exceptional individual who created one of my favorite web comics, Zombie Boy. Originally, Mark created Zombie Boy in 1987 in comic book form. Take a look at his website to see the difference between Zombie Boy then and now. This comic mixes the supernatural world and comedy seamlessly. I've never been a fan of voodoo-related stories but Mark has a way about writing that brings me back every Monday, Wednesday and Friday. His unique art style and cast are memorable, to say the least. His comic overall has a touch of old school comic strip class that lacks in our comic and most others today. Mark was also classy enough to include a bonus image of the Gentlemen and Zombie Boy as the JSA, take a look at the end of this interview!
The OG: Zombie Boy started out as an indie black and white comic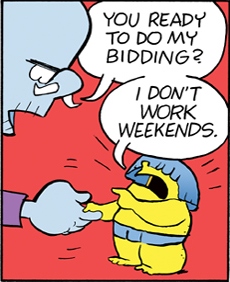 book in the 90s. What made you decide to move Zombie Boy into web comics?
Mark Stokes: This year marks the 25th anniversary of the character Zombie Boy, I self-published my first book back in 1987. My next book, Zombie Boy's
Hoodoo Tales #1 came out in 1989, then I did Zombie Boy Rises Again in
1994 and finally had a one-shot Zombie Boy issue published by Antarctic
Press back in 1996. After years on hiatus, not drawing or even thinking
about him, I began to notice all these other Zombie Boys popping up all
over the web. There's this guy in Canada that is tattooed up all over his
body who goes by the name Zombie Boy and about a half dozen comic books
with that title. I figured I wanted to take the name and character back,
so I revived him once again as a webcomic. I wanted people to know the
original Zombie Boy.
↓ Read the rest of this entry…