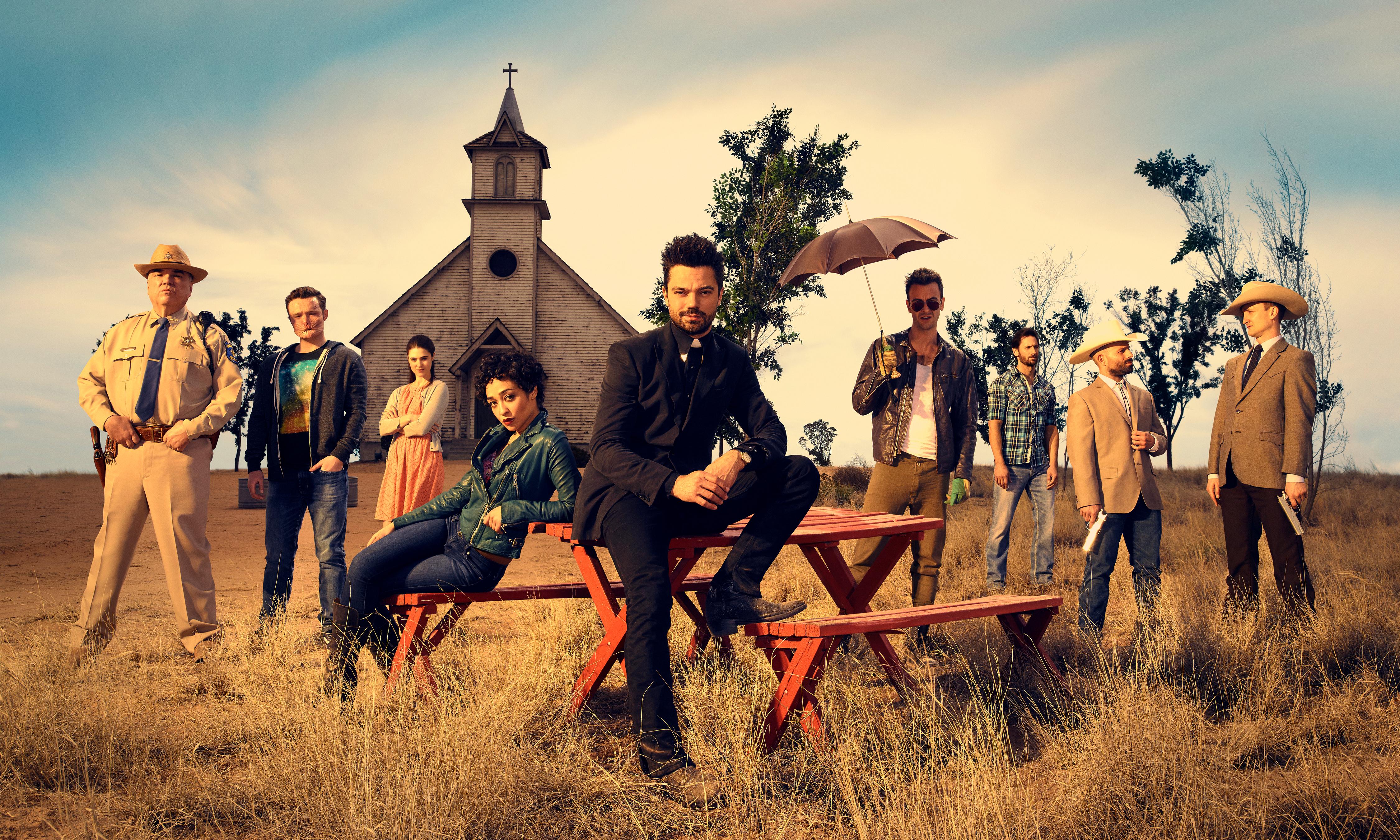 This TV adaptation of the Garth Ennis/Steve Dillon comic book series published by Vertigo comics was developed by Seth Rogen, Evan Goldberg, and Sam Catlin. Set in the fictitious town of Annville, Texas, Preacher stars Dominic Cooper as Jesse Custer (Preacher), Ruth Negga as Jesse's ass kicking ex, Priscilla-Jean Henrietta O'Hare, aka "Tulip", and Joseph Gilgun as Irish vampire, Cassidy.
Aside from some idle conversation with a good friend a number of years back, this was my first exposure to the Preacher universe, and despite the barrage of internet negativity (more on that later), most of which occurred before the show even aired back in May of this year, I decided to give it a shot. Boy-howdy am I glad I did.
Admittedly, I didn't really have a clue as to what the hell was going at the start; an entity ("Genesis") that gives its host the power of mind control? Angels (Tom Brooke and Anatol Yusuf)?? A goddamn vampire??? Despite all the early confusion I quickly fell into deep smit with the motley cast of characters, and as things slowly started to come together and make a bit of sense, the show as a whole.
Speaking of the cast, the on-screen chemistry between the principle players is highly enjoyable; the dialogue is effective, lively and quick-witted, and timing is spot on. In point of fact, all of the characters were excellently cast (in particular Gilgun), from the aforementioned Brooke and Yusuf, as angels Fiore and DeBlanc, to Ian Colletti, as Eugene "Arseface" Root. Another standout is Jackie Earle Haley, who guest stars as Odin Quincannon, head of Quincannon Meat and Power and Jesse Custer's nemesis through the first season.
Flashbacks are interspersed to give some insight into Jesse and Tulip's pasts and separate sequences give us an introduction to and some background on the character known as "The Saint of Killers" (Graham McTavish), as well as the role he will play in future events, as Jesse, Tulip, and Cassidy must now try to somehow locate "God" (yup).
Now back to that good ol' negative internet buzz:
Whether genuine or, as sadly seems more likely, due to a strange craving to feel a part of something, it seems like the trend is to destroy a show or movie, oftentimes before it ever sees the light of day. The tendency to pledge our allegiance to whatever our first exposure to something we end up loving is natural, be it comic, cartoon, novel, etc. This seems to elicit an even stronger emotional response when that first exposure occurs during childhood or adolescence, and I totally get it. Trust me, I get it. Unfortunately, the reality is most of us will never have our own production companies and the ability to make what we want, the way we think it should be made. If that were the case, believe me I would have already made Tranformers, G. I. Joe, and X-Men movies that are actually watchable.
The bottom line:
As stated earlier, I never read the comic, but what I saw on my TV screen was thoroughly entertaining. So from the great visual effects to the well done dark humor and the fantastic characters, Preacher garners a well-earned 4 meat shakes out of 5.
– Greg Randolph