Tribute: Fare Thee Well David Bowie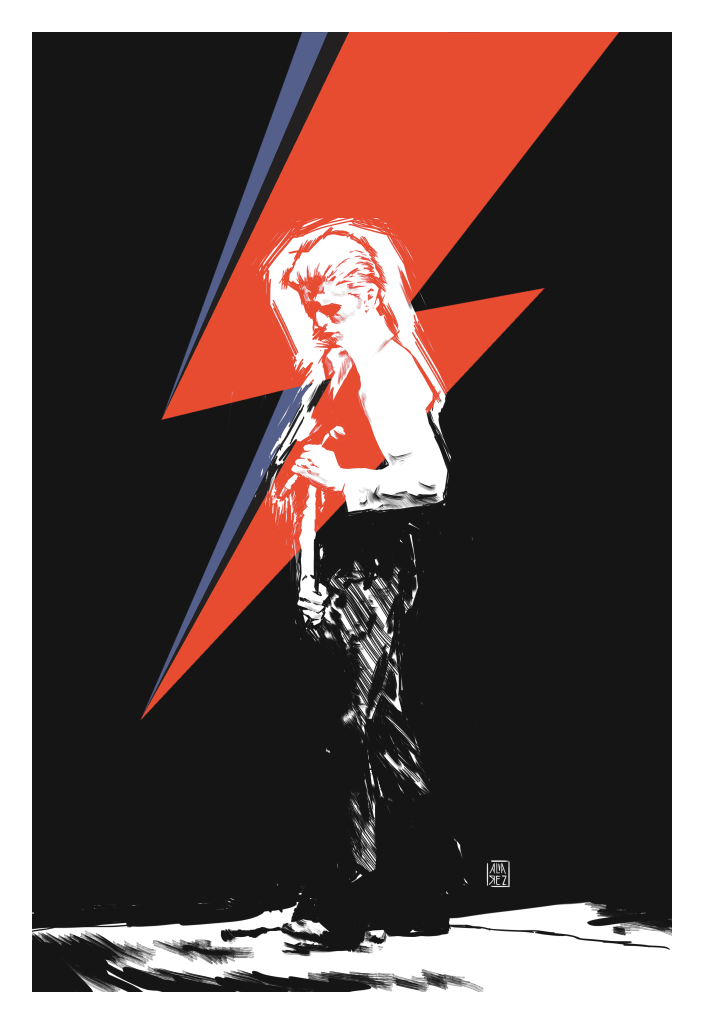 Sunday night, David Bowie passed away. It's incredibly difficult for me to put into words, how I am feeling at the moment. I'll try my best and forgive me if I'm too emotional or corny.
When I woke up this morning I was hoping that the news of Bowie's passing the night before was just one huge joke. I was hoping that the reports I heard Sunday would have been proven to be nothing more than some stupid internet joke. David Bowie was fine and very much alive. Come on, I tell myself. It's David Bowie! He can't die, nothing can kill Bowie. But I was wrong. It wasn't a prank or some sick joke, David Bowie was, is, gone. He's gone.
The music of Bowie was part of my childhood, but mostly as background. My mother was always a huge fan and told me stories of her teenage years, attempting to look like him. To me, he was just that crazy looking guy from Labyrinth who had some cool songs I'd hear all the time. Still, I never really did pay much mind to him. That is until 7th grade when a friend introduced me to three albums that would change everything. We were talking about music, when Bowie came up. I said I only really liked a few songs, but wasn't really that into the guy. The next day he decides that has to change and hands me 3 CD's. Rise and Fall of Ziggy Stardust, Diamond Dogs, and Hunky Dory. When I got home I went into my room and loaded up all three CD's into my stereo. Diamond Dogs came on first and I was introduced immediately to the strange narration of Future Legend and at that moment I was hooked in. At the time I had no idea what a concept album was, later these types of records would become my favorite – go figure. As Diamond Dogs continued on something just connected with me. Track after track I was just sucked into the music. Then comes Rebel Rebel and that was it, I was going on this journey. I played through the other two albums and in a single day had become a fan. Bowie was like this spaceman alien God to me and I needed more.
By the time I was in high school I was well versed in David Bowie. At least his 70's and 80's output. As my taste in music evolved and changed, Bowie was always a constant. Everything from his self-titled to Tin Machine were albums I had on heavy rotation back in the days of Windows Media Player. Not only that, but I began to seek out the movies he was in and try to convince friends to watch them – although Labyrinth and the Prestige is as far as they got – No one wanted to see "The Man Who Fell to Earth" or "The Hunger". I feel like I'm rambling. What I'm trying to say is that a loved the shit out of David Bowie. He's one of the few artists I will outright defend and verbally argue about, just short of losing composure. Anyway, the guy meant a lot to me and I think everyone in High School knew me as the guy who wouldn't shut the hell up about Elvis, Danzig and Bowie. Can you blame me? That admiration, love and just downright pure joy in his music (and yeah, even his 90's and 00's stuff eventually) is something that has never left me or lessened. Every once in awhile I get this itch to play his music non-stop and I do… but it'll be different now. It'll never be quite the same because, because David Bowie is no longer alive and certain songs will bring about new emotions and feelings.
The world has lost a really great entertainer and artist. He brought to this planet something special, something magical and cosmic. Glitter and Glam were his birthright, but his unique brand of music thereafter were part of a greater whole. David Bowie made the music of the universe. The sounds and soul of the cosmos, only ever matched by his best friend who faded into starlight as soon as he shone, Marc Bolan. But, I digress. David Bowie was and will forever be remembered. He's more than an Icon, he's a legend and legends are never forgotten, they stay with us and become echos of a time that once was. His music changed the landscape of pop culture and humanity is better off because of him. For those 69 years he lived on Earth, we had something special, unique and the likes of which will never be heard again. David Bowie was a shooting star that cut the sky in two and ignited for all to see. And just like he came into the world, so does he leave, but his trail of stardust will always be there, showing us that magic is real and never truly goes away.
Thank you David Robert Jones, thank you for all the memories and everything that can never be repaid.
– Aaron A. Alvarez
"There's a starman waiting in the sky
He'd like to come and meet us
But he thinks he'd blow our minds
There's a starman waiting in the sky
He's told us not to blow it
'Cause he knows it's all worthwhile" – Starman, David Bowie