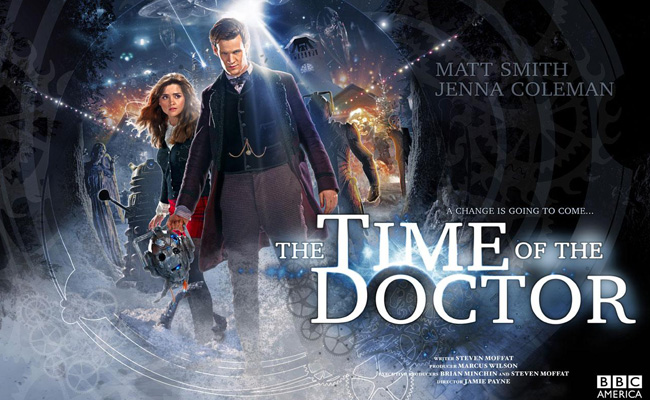 "And now it's time for one last bow, like all your other selves. Eleven's hour is over now. The clock is striking twelve's." And so we find ourselves in the final hour of Matt Smith's tenure as The Doctor. What a fantastic hour it is. Yell "Geronimo!" and hit the jump to keep reading.
In "The Time of The Doctor", this year's Doctor Who Christmas Special, Matt Smith's 11th Doctor finds himself left with the responsibility of protecting a town called "Christmas" from hoards of his enemies. Christmas has found itself in the middle of something much bigger than it's inhabitants would ever suspect as a mysterious transmission has caught the attention of numerous species in the universe. It is within this conflict that the 11th Doctor will find his destiny as the seeds that have been planted during his entire run come to bloom.
Before I continue, I feel I should admit that I was not a fan of the 11th Doctor. I loved the 10th Doctor, and was not going to accept this giant faced, young Gordon Ramsey looking guy in his place. And then, about a season and a half into Matt Smith's career as The Doctor, I had found that he had grown on me. This Christmas special has made it abundantly clear that I was going to miss Smith as I had found myself filled with emotions during his farewell. If "The Day of The Doctor" was a celebration of The Doctor, then "The Time of The Doctor" celebrates the 11th, himself. Matt Smith's performance is outstanding, showcasing his great range leaving you on the verge of tears that are then interrupted with laughter. Jenna Coleman continues to excel in the role of Clara, who has quickly become one of my favorite companions (aside from Rory Williams, that is). There are numerous great surprises and twists in this bittersweet hour that make it exquisitely rewarding to viewers that I won't get into here, since I'd hate to spoil it for anyone reading.
If you're a fan of Who, then Steven Moffat has given you a very satisfyingly emotional end to the 11th Doctor's story. And, the few moments we have with Peter Capaldi's 12th Doctor leave us curiously looking forward to the next chapter of this beloved show.
Final Grade:
A
Travis "I'm sorry for ever doubting Matt Smith" Kennedy